There are many sailing vessels from the 16th to 19th century, and some even older, which have been wrecked around and on the Isle of Wight. But more modern vessels have also succumbed. MAT volunteer, Roger Burns, takes us through one 20th century example. Read below to learn more about the events of Witte Zee II and Brother George.
MV Witte Zee II
The Dutch ocean-going tug, MV Witte Zee II (which translates to the White Sea), was the second of this name and was launched in July 1943 by the J. & K. Smit's Shipyards in Kinderdijk, located a few kilometres upstream of Rotterdam on the Nieuwe Maas, which flows to the North Sea. It was towed from the shipyard on 12 October 1944 and, for the remainder of the Second World War, was in German service. VE day was celebrated on 7 May 1945, and on 3 September 1945, Witte Zee II was towed to Maassluis, downstream of Rotterdam. There, the tug was repaired and renovated, followed by sea trials on 4 June 1946, before entering service with L. Smit & Co of Rotterdam. The ship, Figure 1, had a steel hull and was 39.8m long with 7.65m beam and draught of 3.84m, rated at 327grt, and capable of 12 knots driven through a single screw by one 6-cylinder 4-stroke Smit-MAN 1,000 hp diesel engine.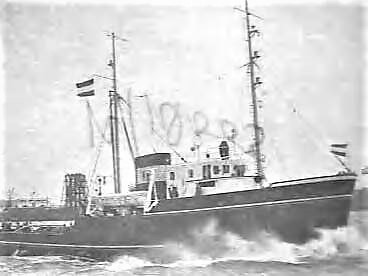 In early November 1948, The Illustrated London News reported that the Witte Zee II completed a 30-day 4,500-mile voyage to Southampton, having towed two American Infantry Landing Craft from Miami, Florida. These two Landing Craft were due to be fitted with engines in the UK and were destined to operate in the Red Sea as passenger vessels.
On 18 January 1952, The Northern Whig and Belfast Post reported that the Witte Zee II was attempting to rescue the 7,588-ton Panamanian ship, Merope, which was aground off the Hook of Holland. However, Witte Zee II's propeller became tangled with a tow rope, as did the tug, Ganges, which was also engaged in the rescue. The two tugs drifted across the channel beside the Hook and collided with each other, resulting in both being damaged. The weather was reported as "unprecedentedly bad" and lifeboats 'rescued' some of the crew from both tugs, some remaining on a skeleton basis.
The Evening News of 19 August 1967 ran an article describing that Witte Zee II had, on the previous day, departed Tyneside with a new Landing Craft, Gagoma, in tow for an expected three-month, 10,000-mile voyage to Port Moresby, New Guinea. The details of Gagoma and its purpose when it arrived can be read here.
SS Brother George, ex-Dieppe, ex-Robert Treat Paine
The steamship Brother George had its keel laid down on 6 January 1942. It was launched on 28 March 1942 and was delivered by the Bethlehem-Fairfield Shipyards in Baltimore on 5 May 1942. Originally named the Robert Treat Paine, it was built as a type EC2-S-C1 Liberty cargo ship, but converted to a troopship that was operated during the Second World War by the Atlantic, Gulf & West Indies Steamship Inc. Gross and net tonnages were 7,191 and 4,389 respectively, length 134.57m, beam 17.37m, and the ship was driven at up to 11knots by a single screw powered by a 140 tonne, 2,500 hp vertical triple expansion steam engine with two oil-fired boilers. The Liberty ships had a variety of armament, typically bow and stern mounted 76mm or 102mm deck guns, and an anti-aircraft gun. They were manned by sailors from the US Merchant Navy with gunners from the US Navy Armed Guard. The ship was sold in 1947 to Cie. Generale Transatlantique of France when it was renamed Dieppe. Sold again in 1954 to Garraway S.A. Panama, renamed Brother George, it sailed under the Liberian Flag, operated by Wigham Richardson & Co., London with IMO5053894, until its demise.
En route from Bocca Grande to the UK with a cargo of phosphates, Brother George ran aground on 1 January 1964 at Dry Tortugas, off Florida. It was refloated on 10 January and taken to Port Everglades before continuing its voyage. On 23 February 1964 with 28 crew en route from Ellesmere Port to Rotterdam in ballast, Brother George ran aground, Figure 2, in fog on Brook Ledges, Isle of Wight at 02.30 in the morning.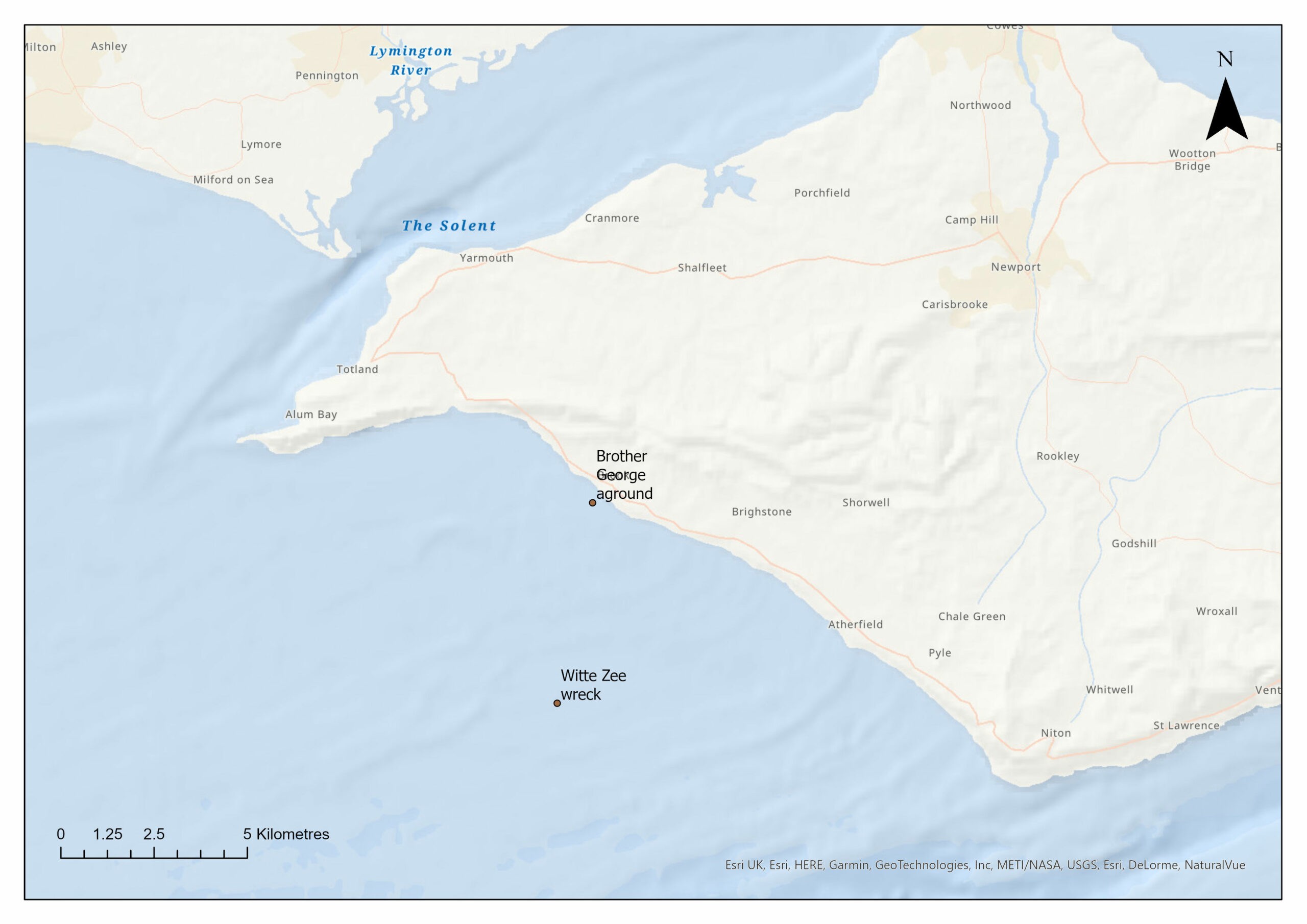 The Grounding of SS Brother George and the Loss of MV Witte Zee II
The RNLI Yarmouth lifeboat, The Earl and Countess Howe, responded and arrived at 04.45. Amid a near gale from the south-east, a rough sea, and a flooding tide, it found that Brother George's crew wished to remain onboard, so remained on station until tugs arrived later in the day. Three tugs responded to Brother George's distress calls for tugs – the Red Funnel Southampton tug, Gatcombe, the Dutch tug, Schelde, and the Dutch tug, Witte Zee II, which, being from Brother George's home port, won the salvage contract. Additionally, a decision not to stand by during salvage operations resulted in The Earl and Countess Howe returning to its station. The position of Brother George, the nearby rocks, and the violent weather meant that Witte Zee II was unable to get close enough to pass a line. Manoeuvring its position to fire a rocket line, Witte Zee II struck a rock and was holed badly enough to send a distress call, which was answered by the lifeboat and the Gatcombe. Eight of Witte Zee II's 16 crew were taken aboard the lifeboat, the others by Gatcombe, which transferred them to the lifeboat before all returned safely to Yarmouth. In fog, Gatcombe had been assisting Witte Zee II to reach Yarmouth. The location of its sinking at about 23.00 is shown in Figure 2 (above), which is in 30m of water.
The next day, Brother George was refloated and towed to Rotterdam where, as it was badly damaged, was declared a constructive loss, sold and scrapped in July 1964.
The Witte Zee II's foghorn was recovered and is on display here at the Shipwreck Centre & Maritime Museum at Arreton, Isle of Wight.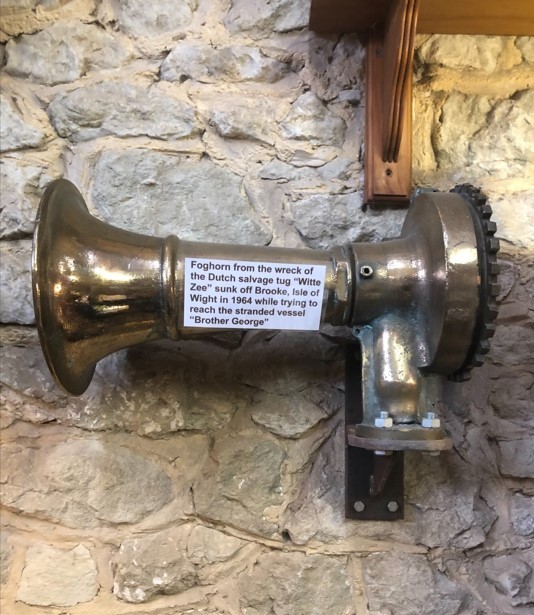 The wreck of Witte Zee II is a popular dive site, lying some 6m high on a shingle seabed, although it has started breaking up. Figure 4 shows a selection of the seabed remains of the Witte Zee II.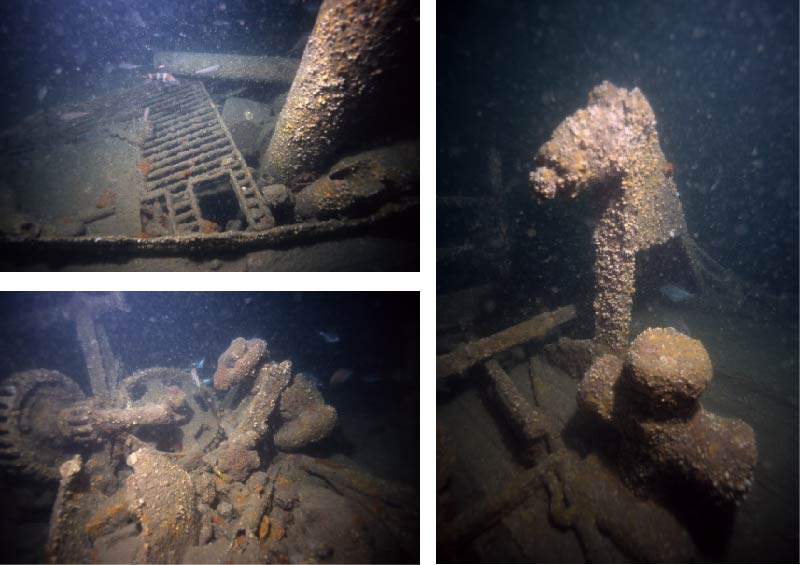 From top left clockwise:
The funnel has gone, but debris from the diesel engine exhaust remains.
Boat stanchion and small bollard / cleat above the main cabin.
Broken anchor winch.
We hope you enjoyed reading this account of Witte Zee II and Brother George, just one of the many fascinating pieces of naval history that you can read about in our blog.