Intrigued by one of the ship models at the Shipwreck Centre & Maritime Museum, MAT volunteer Roger Burns has investigated the tale of HMS Bluebell, lost in 1945 off the Russian Kola Peninsula with only a single survivor from a crew of 91.
Bluebell was a steel hulled Naval Corvette, Flower Class, Pennant K80, launched by Fleming & Ferguson of Paisley on 24 April 1940 and completed on 19 July 1940. 62.5m long, with 10.06m beam, 4.52m draught, displacing 925 tons, it was powered by two scotch oil fired boilers feeding one 4-cycle triple expansion steam engine driving a single screw for 16kts. Bluebell was armed with 1 × 4-inch BL Mk. IX gun, 2 × .50″ Vickers mg., 2 × .303″ mg, 2 × Mk II depth charge throwers, and 2 × depth charge rails with 40 depth charges. The Corvette won battle honours Atlantic 1940-44, Sicily 1943, Normandy 1944, Mediterranean 1943 and Arctic 1945.
A model of HMS Bluebell, Figure 1, is on display at our museum.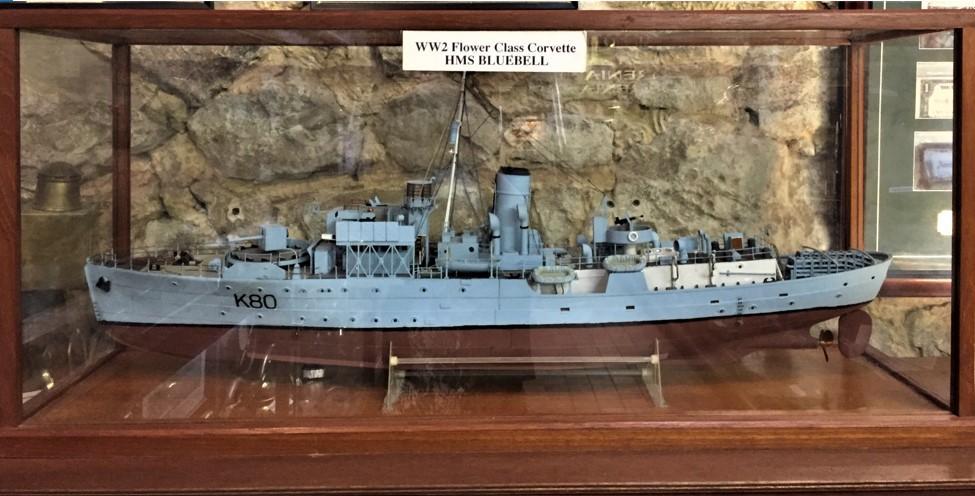 HMS Bluebell's Final Voyage
In February 1942, Bluebell was adopted by the civil community of Tiverton, Devon after a successful WARSHIP WEEK National Savings Campaign. Its service history can be read here. For its final voyage on 13 February 1945, Bluebell had towed HMS Denbigh Castle (K 696) into Kola Inlet after it had been torpedoed by U-992 while escorting the convoy JW-64. On 17 February 1945, Bluebell, commanded by Lt G.H. Walker, DSC, RNVR, was searching for U-boats off Kola Inlet ahead of convoy RA-64, which set out for Loch Ewe. At 17.30 hours, Bluebell was struck in the stern by a GNAT from U-711 just after detecting the U-boat about 30 miles east-northeast of Kildin Island and increasing its speed. The corvette blew up as the hit detonated its depth charges and sank in less than 30 seconds. HMS Zest (R 02), commanded by Lt Cdr R.B.N. Hicks, DSO, RN, arrived at the sinking position in about 10 minutes. Its lookouts heard cries from about a dozen men swimming in the ice-cold water but could not stop due to the danger of also being torpedoed. The destroyer began a search for Bluebell's attacker until being relieved by HMS Opportune (G 80), commanded by Cdr R.E.D. Ryder, VC, RN, which lowered a whaler at 17.53 hours.
The Miraculous Survival of Albert E.G. Holmes
During the search for survivors, only three of Bluebell's unconscious crew members were recovered, and only one of these could be revived – Petty Officer Albert E.G. Holmes, who hailed from Southampton. The crew list can be viewed here. Holme's service included three escapes, as recounted in Good Morning – The Daily Paper of the Submarine Branch No 719 dated 3 August 1945:
"Home Town Talk
NARROW escapes from death are the common lot of men of the Royal Navy, but 24-year-old A.B. Albert Holmes, whose home is at [private address], Southampton, has a life more charmed than most men. Three times in this war he has escaped death at sea. The first time he was one of the few survivors of the sinking of H.M.S. Queen Elizabeth. Subsequently, while serving in H.M.S. Stevenstone at Malta, he was swept overboard by a heavy sea. Grasping a scrambling net over the ship's side, he hung on until a big wave washed him back on deck.
His last escape was the nearest thing to a miracle that could happen. While his ship, the corvette HMS Bluebell, was escorting a convoy which fought its way from Britain to Russia and back against intensive air and U-Boat attacks, she was struck by a torpedo, and, in the words of an eye-witness "appeared just to disintegrate".
Only one of her crew survived – Seaman Holmes who was seen swimming among flaming oil in the freezing water. In spite of an 80knot gale, he was picked up badly burned but alive to tell an amazing tale".
Detail of the February 1945 Russian convoy can be read here. The G7es (T5) "Zaunkönig" ("wren") was an acoustic torpedo employed by German U-boats during the Second World War. It was called the GNAT (German Navy Acoustic Torpedo) by the British.
HMS Bluebell is just one of the models in our extensive collection, which includes everything from prehistoric boats right through to modern tankers and lifeboats. We also have a temporary exhibition this season detailing more on the history of ship models, which can be found in our Education Room.
1Book your ticket to come and see our model of HMS Bluebell today. All hyperlinks in this article are courtesy of www.naval-history.net.