Maritime Archaeology Trust volunteer, Roger Burns, takes a look at one of the Shipwreck Centre & Maritime Museum's fascinating 'personal' artefacts – part of a belt buckle recovered from the wreck of the Royal Navy Patrol vessel HMS P12.
Artefacts recovered from a shipwreck are often found in the wreck's hull, infrastructure or cargo. They are often everyday items of equipment, for instance compasses or mess room cutlery. Less often, items of a more personal nature, which belonged to a specific passenger or crew member, are recovered. When they turn up, these 'personal' items can be a great way of better understanding the social background of someone on board the ship and, although they often cannot be attributed to any one individual, still tell an intriguing story.
HMS P12: BELT BUCKLE
The below image, Figure 1, shows part of a belt buckle, recovered from the wreck of HMS P12. It clearly belonged to one of the crew, but there is no record of who that may have been. There is no record of the buckle's missing tongue having been recovered.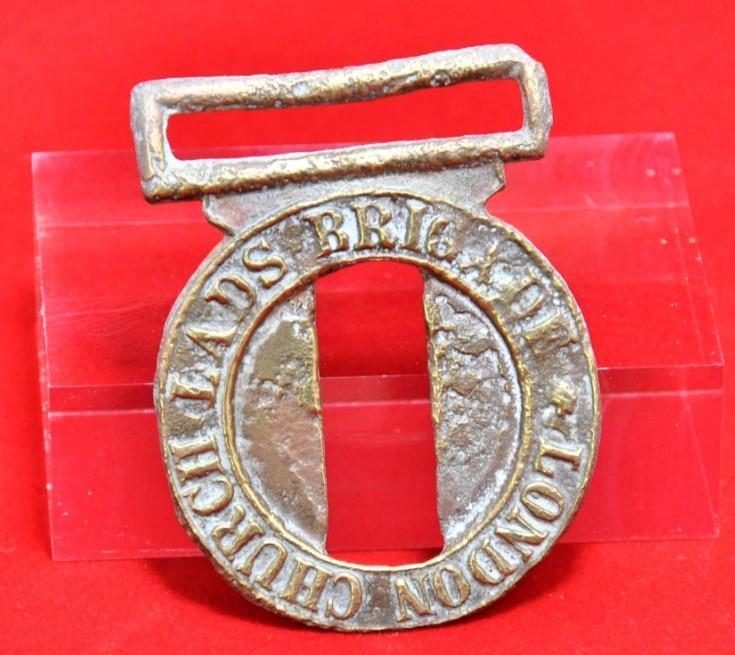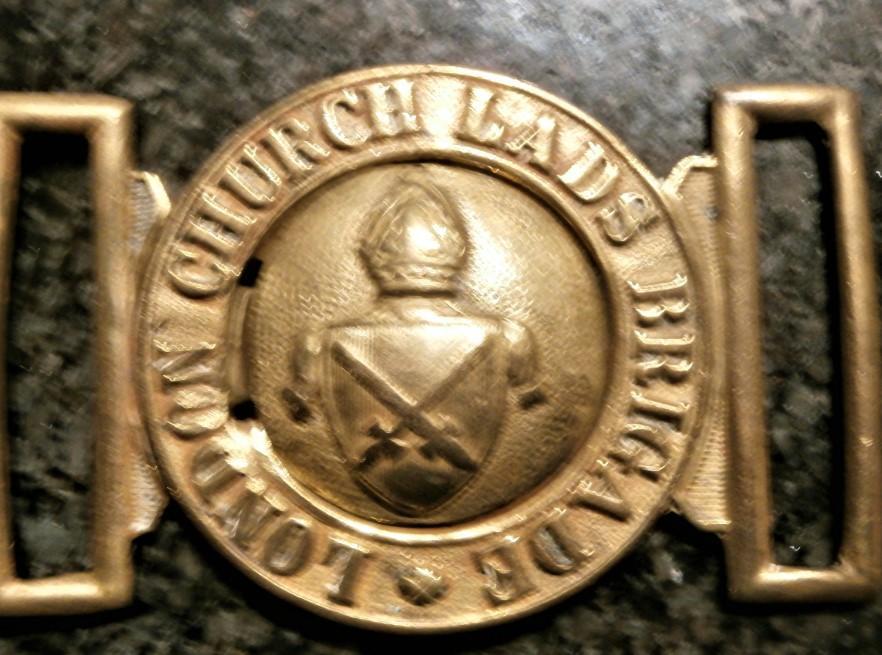 The annotation on the artefact reads 'Church Lads Brigade London', an organisation that has undergone a number of iterations of name and inclusivity, as outlined below. Now known as 'The Church Lads' & Church Girls' Brigade (CLGB), the organisation's Honorary Archivist and Historical Group Chairman has kindly outlined the following history of the organisation, as annotated on the buckle, for which we are very appreciative. He confirms that the "belt belonged to a member of the 'London Diocesan Church Lads' Brigade', which in 1916 was entirely separate from the National 'Church Lads' Brigade', although, by that time the two organisations were working together. By 1936 the two organisations were completely united. The centre of the buckle would have had the shield with crossed swords surmounted with a mitre logo, Figure 2. The later buckles have 'Church Lads' Brigade – London', rather than: 'London Church Lads' Brigade', a subtle difference, but this buckle is consistent with those used in 1916, and probably in use from around 1911. There were some 8,000 members in 1916, with companies all across London, except in Southwark where it was still just 'Church Lads' Brigade'. The organisation was one specifically for older lads of the Anglican Church, unlike the Boys' Brigade, which was interdenominational.
The London CLB had a full tunic style uniform, unlike the rest of the CLB which was, until 1917, just cap, belt & haversack worn over normal clothing. From 1911, both the CLB and the London CLB were recognised as 'Cadets' under the government's Territorial Cadet Scheme. A large number of CLB companies changed to wearing khaki after 1917, the London CLB also wore khaki, but initially were able to use their normal blue tunics as 'Cadet Uniform'. This belt would have been worn with that uniform. The CLB did form a number of 'Naval Units' as part of the cadet affiliation".
HMS P12: HISTORY AND SINKING
HMS P12 was built at Cowes, Isle of Wight. It wrecked close to the Isle of Wight while operating out of Portsmouth. As it was operating in close proximity to the Isle of Wight when lost, it can be considered a 'local' vessel. Built by J. Samuel White and launched on 4 December 1915, HMS P12 was a 'P' class naval patrol boat. It was steel hulled, 74.4m long with 7.3m beam, and capable of 23 knots from two steam turbines that were fed by two oil fired boilers, driven by two screws. One of 44 built, P12 was one of eight Portsmouth Escort Force ships. The class had a low silhouette for U-boat hunting, twin screws for 23 knots, and hardened steel ram bows. It was armed with 1 x 4-inch (102mm) deck gun, 1 x QF 2-pounder (40mm) A.A., and 2 x 14-inch torpedo tubes that were later removed and replaced with depth charges.
On 4 November 1918, just one week prior to the Armistice formalising the end of First World War hostilities, HMS P12 was involved in a collision with the SS Emanuel Nobel, a much larger Belgian-owned oil tanker built in 1912. The Belgian tanker was 114.8m long, 15.6m beam, 8.35m draught, 4,301 grt – the P12 displacement tonnage was 613. The Belgian tanker continued in service until late 1948. The collision, for P12, was catastrophic. It was cut into two sections, with the bow section being towed and beached in Whitecliff Bay, Isle of Wight, and the stern section sinking nearby, half a mile south east of Culver Cliff. Crew numbers on the day of the loss are not known but the normal complement was 50-54. There was one casualty on the day of the collision and another of the crew died two days later due to injuries sustained in the collision.
HMS P12: MEDIA
There is a 2015 dive video here that explores the stern of P12. The video's comments include a mention of Lieutenant Hugh Evelyn Raymond, P12's commander between 7 January 1917 and 1 September 1917, who was awarded a D.S.C for sinking an enemy submarine on the night of the 2nd May 1917. When sunk, the Commander of P12 was Lieutenant George L. H. Dean.
We are currently displaying several other artefacts from HMS P12, which you are welcome to come and explore for yourself. Or you can take a look at them here, using the Maritime Archaeology Trust's Forgotten Wrecks of the First World War interactive database. Just open the database and search for 'P12'.