The SWC holds a large collection of artefacts from the wreck of HMS Velox, here MAT Volunteer Roger Burns takes a look the fascinating history of the ship which dates to the period when steam turbine engines were being developed and was lost during the First World War.
This naval torpedo boat destroyer, launched on 11 February 1902 and completed in May 1903 was experimental. This Velox should not to be confused with another HMS Velox launched in 1917. "Velox" is Latin for "Swift", and this name was also used by a Dutch sailing vessel lost without trace in 1915 and a Norwegian steamship torpedoed in 1916 near the Maas lightship.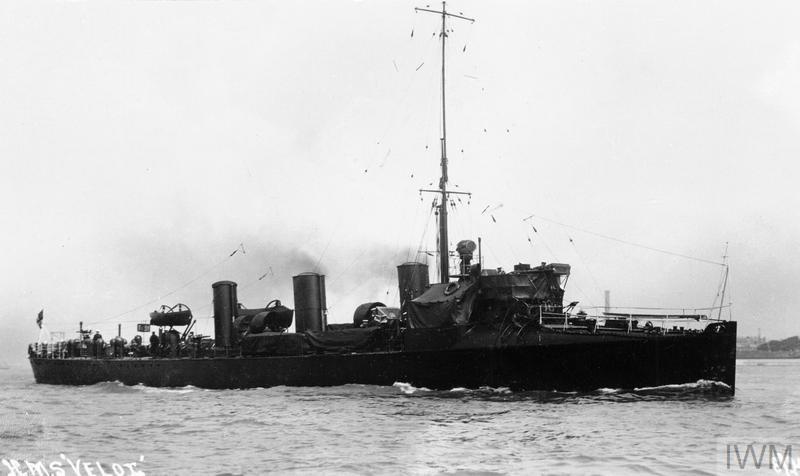 The steel hull of Velox was built at the Hebburn yard of Hawthorn Leslie & Co. on Tyneside, under sub-contract from Parsons Marine Steam Turbine Company Ltd. who supplied the experimental drive train in April 1901 on a speculative basis. Launched as HMS Python, the Admiralty on 7 July 1902 purchased the ship, renaming it HMS Velox. It was 210 ft. long (c. 64m) with 21 ft. (c. 6.4m) beam and 7 ft. (c. 2.13m) draught, displacing 400 tons under light load and 462 tons fully loaded. The armament comprised 1 x 12pdr QF, 5 x 1 x 6pdr QF guns and 2 x 1 x 18.0ins (c. 0.457m) torpedo tubes.
The Admiralty's interest in the ship was its steam turbine engines which offered greater speed and efficiency over the standard steam expansion engines. Two other ships had been previously fitted with similar but different experimental drive trains but sank in differing circumstances in 1901. Velox was fitted with two sets of compound steam turbines, each comprising a high-pressure and low-pressure turbine driving a separate propeller shaft. The high-pressure turbines drove the outer shafts and the low-pressure turbines the inner shafts – this gave four shafts each fitted with two propellers. Two small triple expansion engines could be coupled to the inner, low-pressure turbine shafts for efficient cruising. As well as the normal rudder at the ship's stern, a retractable rudder was fitted forward to aid manoeuvrability when running astern. Previous Admiralty experience of destroyers illustrated that speeds achieved in sea trials run at light loads were not representative of service speeds, so they specified trials should be carried out fully loaded, Velox being the first destroyer subjected to this policy. Sea trials showed that Velox was as fast as hoped, reaching a speed of 34.5 knots at light load and when fully loaded 27.249 knots over the measured mile and an average speed of 27.142 knots. Fuel consumption was higher than expected, significantly higher than the normal thirty knotters.
Velox was not a success in service, partly due to the very high fuel consumption. The cruising engines could only drive the ship at 10.35 knots, less than the cruising speed of the fleet. Other problems included slow astern speeds, an inability to quickly change the engines to run astern, and condenser problems. The cruising engines were replaced by cruising turbines in 1907. In May 1909, Velox was passing Lands' End when its port engines failed and heavy rolling caused a loss of feedwater supply to the condensers. To avoid a similar failure in the future due to poor weather, Velox was transferred from normal flotilla duty to HMS Vernon, the Royal Navy's torpedo establishment, as a training vessel.
Velox remained attached to HMS Vernon at the outbreak of the First World War in August 1914, and was assigned five months later to the Portsmouth patrol flotilla. On 25 October 1915, Velox was on patrol with the destroyer Conflict when condenser problems forced Velox to seek calmer waters near the Isle of Wight but it struck a mine laid by German submarine UC-5 off the Nab Lightship in the eastern Solent, killing four crewmen and badly damaging the ship's stern. Towing Velox to safety was unsuccessful, and Velox sank.
There is more info on the MAT website including an archaeological site report.  A wide range of artefacts were recovered; many are exhibited at the Shipwreck Centre Museum, four of which are illustrated: