An experimental engine, a service life needing repairs, bombed in dock, then mined at sea with significant loss of RN crew and dockyard personnel on board leading to Protected Wreck Status – volunteer Roger Burns relates the history of the destroyer HMS Acheron. 
Acheron and its High-Pressure Turbine
The HMS Acheron (Figure 1) was ordered in 1928, launched on 18 March 1930 by John I. Thorneycroft & Co. Ltd, Woolston for the Royal Navy and commissioned on 13 October 1931. It was the fifth Royal Navy ship with this name, and it was an A-Class steel hulled destroyer displacing 1,350 tons, 98.5m long, with 10.1m beam and 3.7m draught. It was fitted with two steam turbines developing 39,000shp, three drum boilers, twin screws, and rated for 35knots, and it was armed with four x 4.7″/120mm guns, two x 2 pdr. A.A. guns, and two x 21″/530mm quad torpedo tubes.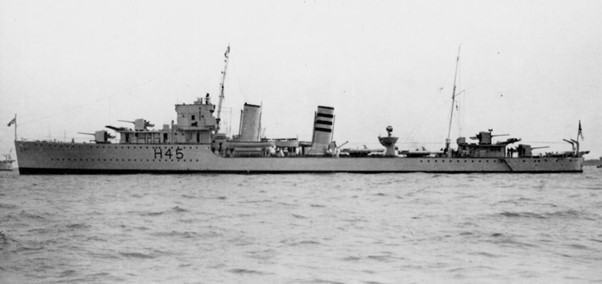 Figure 1: HMS Acheron in 1931 displaying its Pennant H45.
The Acheron was the first destroyer with an experimental engine, fitted with high pressure steam turbines which allowed for good speed with reduced fuel oil cost. The turbines were manufactured by Parsons Marine Steam Turbine Company based at Wallsend. Turbines were first used in the destroyers HMS Viper and HMS Cobra, and other naval and commercial pre-First World War vessels, but the considerably higher-pressure turbines adopted for the Acheron were seen as the potential key to reduced fuel cost.
An article in the Hampshire Telegraph on 2 January 1931 reports that trials were expected to start early in the New Year. These trials were carried out in Southampton, but, on 9 January 1931, a sudden thick fog caused  the ship to drop anchor fearing a collision with other vessels. The next reported trials held in the Firth of Clyde resulted in a Portsmouth Evening News of 29 April article highlighting that the Acheron had set a naval world fuel economy record for steam propulsion, being 0.608lb (circa 0.276kg) per shaft horsepower at full speed, with the design 35 knots being "exceeded with ease"; the Lancashire Evening Post of 4 July 1931, headlined Acheron as Britain's "Hush Hush" Destroyer being a "complete success", quoting the same consumption, "appreciably below the average for other destroyers" although at slightly higher initial cost compensated by reduced £3/ton fuel use (approx. £162 in 2023). The Hampshire Telegraph of 25 September 1931 reported that boiler pressure was 500psi with steam temperature of 750°F, compared with 300psi and 600°F respectively for other ships in the Class. (Circa 34.47bar @ 400°C cf. 20.68 bar @ 325°C).  More trials off Portsmouth were held on 12 October 1931, and Acheron was handed over to the Navy. Fuel consumption was half of its First World War sister ships, as reported later in the Western Mail of 19 October 1933.
Pre-Second World War Service
The Acheron was placed with the Atlantic Fleet.  On 19 February 1932 the Portsmouth Evening News reported that the Acheron would move from Portsmouth to Portland and participate in exercises conducted by the Atlantic Fleet during its passage home. In June 1932 the Acheron was at Aberystwyth's carnival week with aircraft carrier HMS Furious. Both ships  were open to the public and giving searchlight displays. Later that year, in October in Portsmouth five dockyard workers were overcome by fumes while working in the engine room but later recovered after the accident. The accident was apparently caused by a down draught of wind adversely affecting the exhaust of a petrol driven dynamo.
In April 1935, the Acheron arrived back at Portsmouth after  two and a half years in the Mediterranean with the Third Destroyer Flotilla. Later that year in October, the Acheron underwent repairs at Devonport before returning to the Flotilla. Another accident, in August 1936, resulted in two stokers being badly burned while cleaning out a petrol tank at the forward end of the ship. It was unclear what happened,  but there was no damage to the ship.
A collision between the Acheron and a shingle barge in Portsmouth harbour is reported by the Hampshire Telegraph on 5 November 1937. As a result, 6m of plating above the Acheron's waterline were torn,  requiring a few weeks dockyard repairs.
Second World War Service & Loss
While in service, the Acheron was plagued with mechanical problems, requiring repair even as war was declared on 1 September 1939. Repairs were again needed from December 1939 to March 1940, and in early August 1940. Wartime duties are summarised here, from which it is evident that repairs were again needed from December 1939 to March 1940, again in early August, these latter repairs compounded on 24 August by bombs during a Luftwaffe air raid, one exploding within the rear of the ship causing significant machinery and structural damage.
Repairs were completed by 2 December 1940, and sea trials took place on the south of the Isle of Wight. These were being carried out in heavy weather and under the cover of darkness during the night of 17 December 1940. On board, apart from the crew, were many dockyard workers monitoring   the engines. The Luftwaffe had by this time laid mines in the Channel, apparently to no particular pattern, and during a pass on the measured mile, Acheron's bow struck a mine. The sheer speed of the ship drove it under, and coupled with the force of the explosion, the ship broke in two. The bow section sank immediately, the stern section remaining briefly afloat before it too sank.
Seven online sources, together with newspapers, give a confused picture of how many were on board, how many were lost, and the mix of RN and dockside personnel. The consensus appears to be that 215 were on board, of whom 25 were dockside personnel, and that there were only 19 survivors, all being crew, but these figures are not regarded as definitive based on online records. The Admiralty announced the loss on 26 December. 
The Wreck of the Acheron
Over the years, many unsuccessful attempts to locate the wreck were made. The Acheron was buried in the sand thus degrading magnetometer readings. Martin Woodward eventually found the wreck in 1984, about 45m deep, and respecting it as a war grave, he did not disclose its location and only recovered a steam whistle (Figure 2) originally affixed to a funnel, as proof of the Acheron's identity.
A completely separate hydrographic survey in the early 2000's disclosed its location, and on 1 November 2006, the Acheron was designated a Protected Place under the Protection of Military Remains Act 1986 – updated legislation now applies, being The Protection of Military Remains Act 1986 (Designation of Vessels and Controlled Sites) Order 2019, as of 2 September 2019.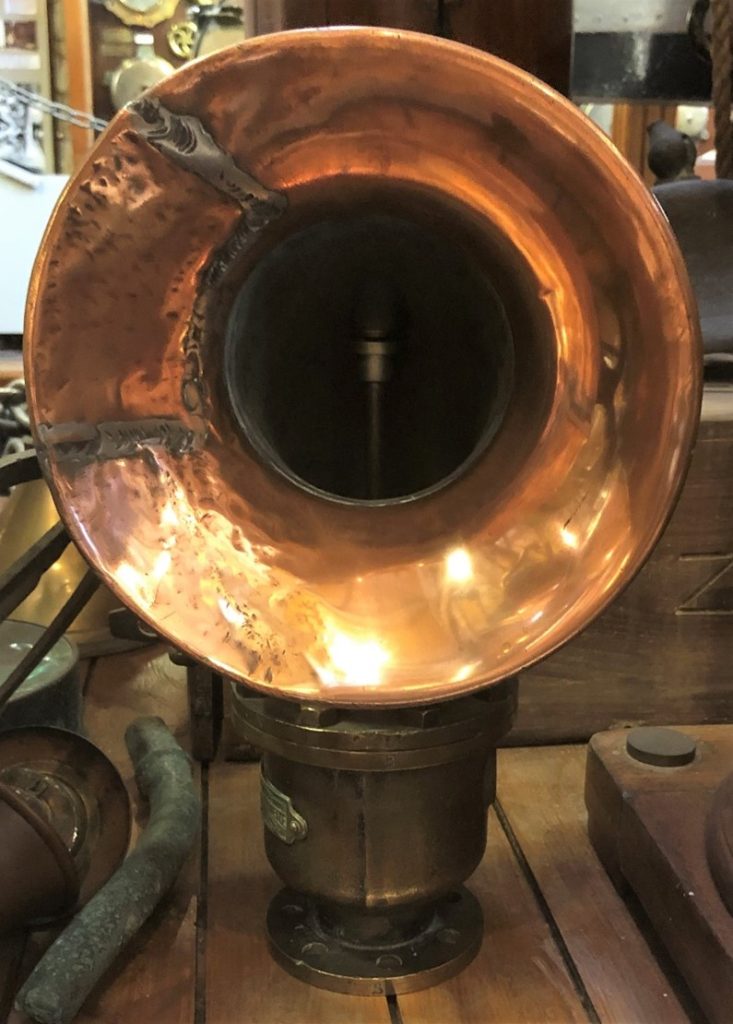 Figure 2: HMS Acheron Steam Whistle.
Source: Maritime Archaeology Trust
The Shipwreck Centre and Maritime Museum
Martin Woodward, who founded the Shipwreck Centre and Maritime Museum at Arreton Barns on the Isle of Wight, traced one of the survivors, Stoker Reg Willis, in 1985. Willis visited Martin Woodward and related his story of the sinking. It is an inspiring account of fortitude and resolution to stay alive, witnessing the flames leaping from the ship before it sank, reaching a Carley Float while swallowing mouthfuls of sea water mixed with fuel oil, and fighting the intense cold for some six hours before being picked up by an escort vessel.
A rating, Donald Sleeman, who had died prior to discovery of the wreck, had written an account which his sister, who lived on the Isle of Wight, kindly passed to Martin Woodward. These accounts with additional background are related in a framed narrative displayed in the "quarterdeck" area of the museum.
The Acheron represents a key advance in naval propulsion technology but at a human price.