The Royal Navy's HMS Hazard, originally a Torpedo Gunboat converted to a submarine depot ship, sadly collided with submarine HMS A-3. A-3 and its 14 crew were lost, and later Hazard too was lost in a collision. MAT volunteer Roger Burns takes a look at the Hazard's history including the two collisions, and portrays a crew member who was awarded the Victoria Cross.
HMS Hazard – 1894 to 1914
The Hazard was launched by the Pembroke Dock, Wales on 17 February 1894 as the second of five Dryad Class Torpedo Boats for the Royal Navy. The Alarm Class of 11 Torpedo Boats preceded the Dryad class vessels which were larger than the Torpedo Destroyers which followed.
The steel-hulled Hazard was 80.1m long, with 9.3m beam and a 4m draught, displacing 1,070 tons, driven at up to 18.5 knots by two bronze screws from 2×3-cylinder vertical triple expansion Fairfield steam engines, and it was equipped with four Fairfield locomotive style boilers.
HMS Hazard, armed with 2 x QF 4.7″/12 cm guns, 4 x 6 pdr. guns, 1x 5-barrel Nordenfelt machine gun, and 5 x 18″/450-mm torpedo tubes, was part of the International Squadron 1897-1898 in Cretan Waters. A decision was made by the Group to place the customs houses on Crete under British control so as to raise revenue for the Island's welfare. Two were taken over peacefully but heavy fighting broke out when the takeover of Candia, now Heraklion, was attempted. Hazard was the only warship in the harbour, so it landed a party to assist the detachment of the Highland Light Infantry and opened a bombardment to assist the British forces. A request for medical assistance was sent to Hazard, and a party comprising Captain-Commander Vaughan-Lewis, Dr. Maillard, Figure 1, and his sick bay man, with five men went ashore under fire in a gig, losing two men with three wounded. Dr. Maillard's next actions led to this citation in the London Gazette of 2 December 1898, headlined Candia, Crete:
"On the 6th September 1898, during the landing of seamen from Her Majesty's Ship "Hazard" Staff Surgeon William Job Maillard, who had disembarked and reached a place of safety, returned through a perfect deluge of bullets into the boat and endeavoured to bring into safety Arthur Stroud, Ordinary Seaman, who had fallen back wounded into the boat as the other men jumped ashore.
Surgeon Maillard failed to bring Stroud in only through the boat being adrift, and it being beyond his strength to lift the man (who was almost dead) out of so unstable a platform. Surgeon Maillard returned to his post with his clothes riddled with bullets, though he himself was unhurt".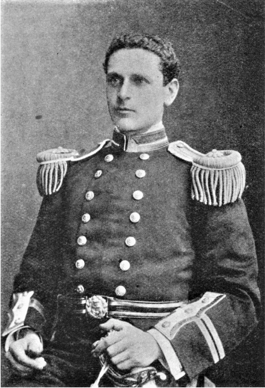 Queen Victoria invested William Maillard with his Victoria Cross on 15 December 1898 at Buckingham Palace and he is the only Royal Navy medical officer to have been awarded the Victoria Cross, a notable feat. Maillard had joined the Navy as a surgeon in 1889, retired from active service in 1902, and sadly died on 10 September 1903, aged just 40.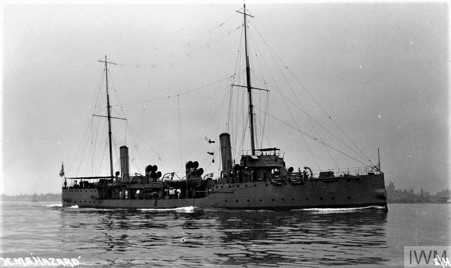 1901-1914
In 1901, the Hazard, Figure 2, was converted and commissioned on 20 August as a sea-going submarine Depot Ship, the first of its kind worldwide and the only ship of its Class to be converted for this role. In this role, it appears that the Nordenfelt machine gun was removed. Initially deployed at Barrow-in-Furness, captained by Captain Reginald Bacon appointed for four years as "Inspecting Captain of submarine boats", Hazard was then deployed in 1902 to Portsmouth with Torpedo Boat No 42, and submarines Nos 1 to 5 to form the First Submarine Flotilla. These particular submarines were the Holland Class preceding the A-Class submarines. Hazard participated in the Fleet Review of August 1902 marking King Edward VII's coronation. Reginald Bacon's immense contribution during a distinguished Naval career may be read here, including his appointment to Commander of the Dover Patrol which subsequently included HMS Hazard. Bacon has also authored a particularly detailed account of the Dover Patrol which is available here, and refers briefly to the Hazard. (Readers may wish to delve several times into this account as it is very extensive).
On 2 February 1912, HMS Hazard collided with submarine HMS A-3 while conducting joint exercises off the east of the Isle of Wight, resulting in all 14 crew aboard A-3 being lost, with a full account available here.
1914-1918
With the advent of the First World War, all Dryad Class vessels, with the exception of HMS Hazard, were converted to Minesweepers. Allocated Pendant Number P.38 and listed as a Depot/Repair ship, Hazard, under Commander N.E. Archdale, was deployed in the first phase of operations off the Belgian coast in conjunction with other ships on 20-22 October 1914, for which Hazard, just one of many ships, was awarded Battle Honours. Later while still listed as a Depot/Repair ship, Hazard was listed with the Fifth Submarine Flotilla at Dover on 1 January 1917 but it is unclear when it first joined the Flotilla. This Flotilla had previously been designated the Fourth Submarine Flotilla based at Portsmouth, served by HMS Arrogant, one of four Arrogant Class cruisers launched in 1896 which, converted, served as a submarine depot ship at Portsmouth from July 1911. The Fourth Flotilla including Arrogant was redeployed to Dover in September 1914, where it was re-designated the Fifth Submarine Flotilla. Submarines in this Flotilla at Dover were all C-Class submarines*. From Dover, the Hazard supported its submarines when employed in the Channel against German raiders. Over time, the Arrogant became deployed as the depot ship for Dover Harbour.
On 17 November 1915, HMHS Anglia was returning with wounded troops from Calais to Dover when it struck a mine causing considerable loss of life, sinking quickly. Fortunately, HMS Hazard was nearby and was among the first ships to provide help to the stricken hospital ship .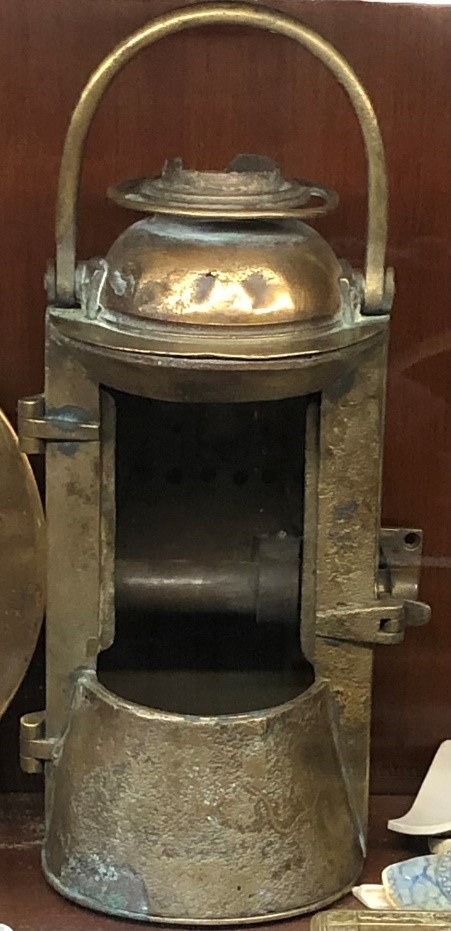 Figure 3: A Lamp from HMS Hazard at the Shipwreck Centre and Maritime Museum
Hazard, having just been reallocated with Pendant P.96, was rammed on 28 January 1918 in thick fog by the 2,937-ton casualty clearing ship SS Western Australia. Hazard was virtually sliced in two, quickly sinking with the loss of three crew, and a fourth died later in hospital. The wreck lies upside down in two parts, 2 miles NE of Bembridge and a mile east of the Warner Buoy in the centre of the deep-water channel leading to the east Solent where currents are strong and visibility poor. In a busy shipping lane, the wreck is partly buried in the mud at about 30m depth, the top of the wreck being at 22m, with limited scour of 0.5m.
The bronze propellers have been salvaged as have two portholes. The Shipwreck Centre and Maritime Museum at Arreton Barns on the Isle of Wight has on display one of Hazard's lamps, Figure 3.
The Hazard was one of the vessels after military intervention at Crete which served the submarine service as submarines underwent rapid development, contributed to the First World War, and it is unfortunate that it is associated with two tragic collisions and loss of life.
* Submarine Nos C.15, C.17, C.18, C.19, C.21, C.22, C.28 and C.30.