The SWC holds a large collection of bells from ships, here MAT Volunteer Roger Burns takes a look at role of the bell onboard and the wreck of the Victor Emmanuel.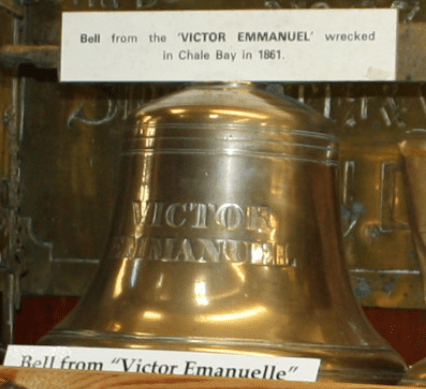 A ship's bell, usually manufactured from bronze or brass, traditionally has the ship's name cast or engraved into it. The bell serves several functions – even if the vessel is renamed, maritime tradition dictates that the original name is retained, and the bell is often the sole means of identifying a wreck; in previous times, it was, in conjunction with an hour glass or by a sextant observation, the sole means of keeping time aboard, and different patterns of bell rings would indicate the time of day or night and when changes of watches were due. It was also an audible means of warning in foggy conditions and sometimes rung for auspicious occasions.
The bell recovered from the wreck of the sailing vessel Victor Emmanuel,  is on display at the Shipwreck Centre. The ship went aground on 30 January 1861 at Blackgang, Chale Bay, Isle of Wight. The vessel was on its 52nd day of a voyage with a cargo of beans, barley, wool, flax and gum from Alexandria bound for London when it ran into trouble. It was night time, in dense fog with a SE force 4 wind blowing. Survivors related that they had no idea they were so close to land when the vessel drove onto the rocks shortly after 20.00; the ship was in pieces within 90 minutes (The Irish Times of 6 February 1861). The ship had been unable to fire its guns to indicate their plight, so the coastguard was unaware what had happened until about 05.00 the next morning. The vessel's two boats had been launched but stove against the ship, resulting in the loss of 15 of the 19-crew including the master, captain Charles Box. The boatswain, a Mr Burns, and three men were saved from their jolly boat and landed at Southampton having been taken aboard the French vessel L'Etoile, whose captain, J. T. A. Herclat was presented with a "telescope for his humanity in rescuing part of the crew" (The Shipping and Mercantile Gazette of 22 March 1861).
Victor Emmanuel was launched on 7 April 1856 at the shipyard of the Victoria Foundry Company in Greenwich. The shipyard owners, Charles Joyce & Co. built Victor Emmanuel for themselves – it was an iron hulled steamship, 56.4m long, with a beam of 8.23m, and a depth of 3.66m with an auxiliary steam engine of 90hp driving a single screw, launched with a tonnage of 597 burthen. However, a Lloyd's detailed inspection survey in July 1858 indicated that it had been converted to a barque from a steamship with confirmation that the engine had been removed, tonnage had increased to 620 burthen, and at survey, the intended destination was stated to be Alexandria.  Another Lloyd's survey, dated 28 January 1859, held at Liverpool certified that collision damage had been made good and that it was intended to sail to London.
Due to the proliferation of "Victor Emmanuels" as entries for other ships and persons with this name being numerous in the British Newspaper Archive, its voyage history is unclear but an advertisement in The Shipping and Mercantile Gazette of 17 July 1858 clearly is relevant, advertising the vessel as a "First-Class Clipper Barque" – lying in the Victoria Docks, Victor Emmanuel was due to sail for Alexandria on 25 July, with commander J. Blampied having space for a small quantity of light goods, and that it had "excellent accommodation for cabin passengers at reduced rates". So, it is reasonable to assume that Alexandria was probably a regular destination.